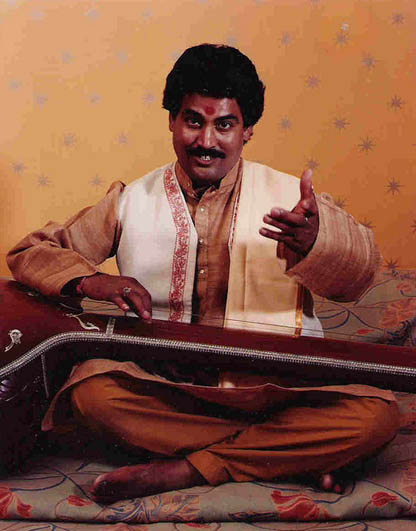 Pandit Prem Kumar Mallick
One of the oldest tradition of musicians since 18th century, the Dhrupad tradition of Darbhanga and the Mallick family-they both are one & the same thing. Pandit Prem Kumar Mallick belongs to the illustrious musical family of Darbhanga Gharana and represents the 12th generation of this musical lineage. His training in Dhruvpad- Dhammar started at an early age under the guidance of his father late Pt. Vidur Mallick, the Dhrupad maestro. He had the opportunity of learning from his grandfather Lt. Pt. Sukhdev Mallick, the renowned Dhrupad singer.
He is a 'TOP' Grade artist in Dhrupad Vocal, the highest ranking given by All India Radio & Doordarshan and is also a well known 'A' Grade artist in Hindustani Classical Vocal of All India Radio & Television.
Pt. Prem Kumar Mallick is associated with some top-notch centers for studies of music for the teaching of Dhrupad vocal & instrumental. He has performed in major musical festivals in India and abroad including the Festival of India held in the US, Canada, the Great Britain, Germany, Japan, Spain, France, Italy, Netherlands, Belgium, Scotland, Switzerland and Denmark, enthralling the audience everywhere. With number of audio and video cassettes, CDs and DVDs, numerous awards and accolades, and a distinguished performance career in India and around the world, he is widely recognized as one of the greatest Dhrupad Vocalist of the world.
As a Dhrupad Vocal expert he has recorded an Archival Audio-Video recording by Indira Gandhi National Centre for Arts (IGNCA), Govt. of India, New Delhi.
Outside India, his concerts have been recorded by Radio Bremen (BR), Radio Frankfurt (HR), Radio Belgium (BRJ), Radio Saarbrucken (SR), Radio Cologne (WDR), Radio Berlin (RBB), Radio Nuitwengen, BBC London, Radio Berne, Hungarian Radio Budapest, Radio Munich and many more.
He is a member at the Northern American Dhrupad Association (NAAD), U.S.A as well as was an invited artist –in-residence in Berlin on the invitation of the German Academic Exchange Program. He is also in the Board of Experts (Jury member) of All India Radio, New Delhi. Dr. Mallick is not only an excellent performer but also a remarkable teacher with many students. He has spread a wide range of Young Dhrupad talents all over the world for the growth and popularity of this Ancient Music.
At present, he is teaching as a Professor in the Music & performing Arts Department of Allahabad University.